MP10
Electric Mini Press for Grommets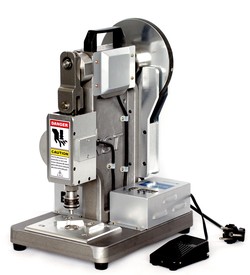 The Model MP10 is an innovative mini-press designed for grommet applications. Pre-punched work is not required as the power of the MP10 coupled with self-piercing grommets consistently delivers good settings. Presently the MP10 is available for 8mm and 12mm grommets. This machine is built on a cast frame and designed for safe operation, portability and ease of use.
The electronics on the MP10 control many of the critical aspects of the machine. Operator safety is monitored by a safety sensor that detects when an object that is too large is in the setting area. When this occurs the MP10 immediately terminates the cycle. Prior generations of grommet presses required time consuming tool adjustments when the material thickness varied. The MP10 provides this basic adjustment electronically; simply select the thickness as thin, normal or thick, and the electronics take care of the rest.
An MP10 comes as a small, compact unit. At 31 pounds, and dimensions of 8.5" wide, 11.5" deep and 16" high, it can be adapted to most working situations.
An MP10 is a step up from a manual press. When the physical demands of setting grommets is too much consider putting an MP10 to work for your company!