Model SF2
Snap Fastener Machine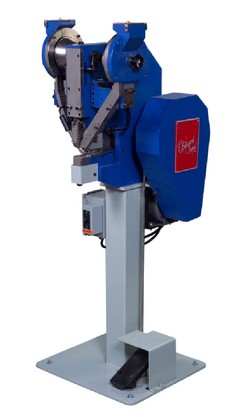 The Edward Segal, Inc. Model SF2 is a fully automatic attaching machine tooled for industry snap fastener components. This machine is offered for customers looking for an affordable, reliable solution for snap fastener applications. The Model SF2 is a flywheel powered machine and features rotary hoppers, a target light for locating the snap position on the material, and a mechanical clutch with a non-repeat mechanism, to ensure long-term safe operation.
Specifications:


Throat Depth: 2"


Work Height: 33''


Electrical: 115 VAC, 60 HZ, 1 PH


Motor: ¼ hp


Weight: 325 lbs.


Footprint: 18'' Depth x 20'' Wide


Height: 51''


Note:
To find out how the Model SF2 can be put to work for you, please send us samples of your snap fasteners and material for application evaluation and we will be pleased to return the samples to you along with our formal quotation.