Model 92GW
Edward Segal Automatic Grommet Machine (Heavy Duty)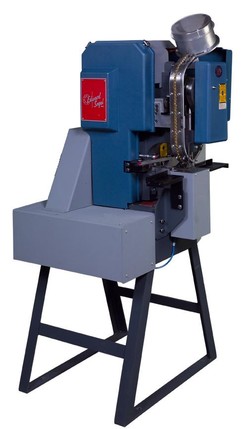 The Edward Segal, Inc. Model 92GW Grommet Machine automatically feeds and sets grommets and washers in a single revolution. The 92GW is specifically designed to punch a hole in heavy duty industrial fabrics and feed and set a grommet and washer, all in a single revolution. The result is a strong, durable quality setting with greater productivity, all leading to a fast return on investment.
Advantages:


Increased Productivity: customers report increases in excess of 300% over conventional double revolution grommet machines.


Advanced Cutting Technology: holes are punched in heavy duty Industrial fabrics including Kevlar and Nylon.


Compensator: to allow variance in material thickness of up to .125"


Stripper Plate: to lift grommet and washer setting off of the pilot of the set die.


Grommet and Washer sizes: No. 0 to No.4 including telescopic and spur washers.


Reduced Operator Fatigue: the operator simply positions the materials and cycles the machine


Increased Safety: the operator does not have to place fingers in the setting area to load the washer


Safety:


Completely guarded by wrap around A.B.S. plastic guarding


Each machine comes equipped with one set of setting tools, and rear side gauges as required. The machine is mounted on a welded steel stand requiring a 30" square floor space.


Specifications:


Grommet & Washer Feed: Automatic from rotating brush hoppers


Motor: ½ HP, 115 VAC, 60 HZ, Single Phase
Flywheel Speed: 140 rpm


Throat depth: 2-1/2""


Compressed Air: Filtered 50-60 PSI, 0.2cfm


Overall dimensions: 3'W X 3'D


Work Height: 37"


Crated Weight: 850 lbs


Actuation: Electric Foot Switch