Model 83GW
Automatic Grommet Machine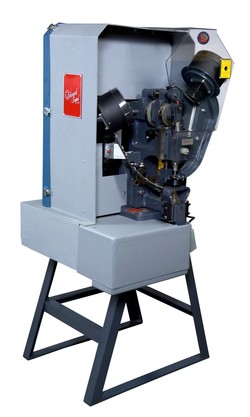 The Edward Segal, Inc. Model 83GW automatically feeds and sets grommets and washers in a single revolution of the machine. 83GW tooling pierces most vinyl or cloth materials while simultaneously feeding the washer with the eyelet or grommet. The result is a strong, durable quality setting with reduced operator fatigue, a safer operation, and a fast return on investment. The 83GW is especially suited for lighter materials as it pierces a hole versus punching a clean hole. With the pierce, the extra material folds back and provides a larger foundation to set the grommet and washer against.
Advantages:



Increased Productivity: customers report increases in excess of 300% over conventional double revolution grommet machines.




Stronger Settings: material is not cut out, but is clinched between the grommet and washer




Reduced Operator Fatigue: the operator simply positions the materials and cycles the machine




Increased Safety: the operator does not have to place fingers in the setting area to load the washer



Safety:



Completely guarded by wrap around A.B.S. plastic guarding




Each machine comes equipped with one set of setting tools, rear gauges, left and right side gauges as required. The machine is mounted on a welded steel stand requiring a 30" square floor space.



Specifications:



Grommet & Washer Feed: Automatic from rotating brush hoppers




Motor: ½ HP, 115 VAC, 60 HZ, Single Phase




Flywheel Speed: 140 rpm




Throat depth: 2"




Compressed Air: Filtered 50-60 PSI, 0.2cfm




Overall dimensions: 2 ½' W X 2 ½' D X 5 ½ ' H




Crated Weight: 750 lbs




Actuation: Electric Foot Switch