Model 4KGW
Pneumatic Grommet Machine - Fully Automatic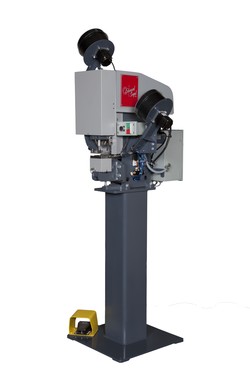 4KGW Main View
The Edward Segal Inc. 4KGW is the most advanced grommet machine in our product line. This machine utilizes pneumatic force and innovative toggle linkage to generate over 4,000 pounds of force; plenty of power to cut through multiple layers of the toughest fabrics. The 4KGW has fewer moving parts than the mechanical grommet machines to simplify maintenance issues. And, to offer maximum flexibility, it comes standard on a machine stand but is available on a fixed plate for bench mounting. A PLC based electrical package provides control over the individual functions of the machine and offers a platform for expansion.
Features


Pneumatically powered with toggle linkage.

Produces over 4,000 pounds of force.



Advanced cutting technology to punch a hole in multi-layered materials.




Pressure setting switch to compensate for variances in material thickness.




Available for grommet & washer sizes




No. 0 to No. 4 (including Telescopic, Tooth and Spur)




PLC based controls for optimal machine flexibility.



Specifications
Dimensions:


Bench Space: 25'' W x 32" D x 36'' H


On Stand: 29" W x 32" D x 68" H


Weight / Crated:


Bench: 310 / 400 lbs.


On Stand: 380 / 580 lbs.


Electrical: 115 VAC 60 HZ, 1 Ph
Air: 60-100psi; 7-10cfm